ABOUT PGC
For 28 years PGC has been the worldwide leader in teaching players how to think the game, be a leader, and run the show.
We believe every player deserves to know how to unlock their potential, be a leader on and off the court, and use the game to propel themselves to success in life.
This is the heart behind all we do at PGC.
ABOUT THE facility
Imagine training in the same facility as top NBA athletes…now you can. PGC Phoenix is bringing together a world-class facility with world-class PGC training. Here is the environment you can expect when you walk in the door.
NBA level court and hoops

6 shooting lanes with the Gun 12k by Shoot-A-Way

Professional PGC certified trainers

A life-giving, transformational training style

George Ellis
George Ellis is the General Manager of PGC Phoenix and oversees PGC Basketball's first ever, state-of-the-art training facility.  
George previously worked as the Director of the Basketball Academy for the Minnesota Timberwolves & Lynx.  Their programs looked to develop a love for the game, instill life skills and equip each player with the skills necessary to be a contributor within their program.  Under his leadership, the program impacted well over 7,000 players and coaches each year throughout Minnesota, North and South Dakota, Iowa, Wisconsin and Canada.
Prior to working with the Minnesota Timberwolves & Lynx, George worked as the Director of Sports Development at the National Sports Center, the world's largest amateur sports facility, located in Blaine, Minnesota.  While at the National Sports Center he managed the Hennepin Youth Sports Program, which each year provides $2 million in funding to local schools and governments to improve youth athletic and recreation facilities and to purchase athletic equipment to benefit youth sports throughout Hennepin County. 
George's passion for coaching has also led to coaching stints at the Academy of Holy Angels in Richfield, Minnesota as well as North High School in Minneapolis.  George eventually worked his way up to Associate Head Coach under the leadership of Minnesota Hall of Fame Coach McKenzie at Minneapolis North High School; a program in a school that almost closed their doors due to declining enrollment and district financial hardships.  He also served as Assistant Men's Basketball Coach at Anoka-Ramsey Community College under Hall of Fame Coach Ron Larson.
George has a passion for international basketball development and has visited Tanzania Africa and various parts of Turkey on five separate occasions to lead multiple basketball development and national team programs for their players and coaches.  He believes it's amazing to see the differences in resources that different countries and areas have and believes each area has their own unique challenges in developing the sport.  
George attended the University of St. Thomas in St. Paul, MN, was a member of the Men's Basketball Team, and earned a BA in Business Administration in 2004.  He also earned his Masters Degree in Coaching & Athletic Administration from Concordia University Irvine California in 2017.
Ellie Vander Veen
Ellie Vander Veen is the Member Service & Sales Playmaker at PGC Phoenix. Her role is to provide insight and wisdom to hoopers about the training program that would best empower their authentic basketball journey. 
Ellie lives and breathes all aspects of competition. She grew up in Washington and began her athletic career at the age of 5. From that age on she continued to play multiple sports through high school: soccer, volleyball, basketball, and softball. Ellie was a starter and captain on her varsity softball team, as well as a member of her school's state championship basketball team in 2016. Through her years as an athlete, Ellie saw and learned the importance of teamwork and hard work, which are skills that speak to the essence of PGC Basketball.
Ellie's true passion in life is serving others. Combining that passion with her love for sports is a dream come true. From an early age, Ellie learned that sports teach the critical life skills that overflow into other areas of one's life. She is committed to helping athletes be the hero in their own journey towards fulfilling their potential.
Ellie is finishing up her academic career at Grand Canyon University, where she will graduate with a degree in Communications. With hard work and outstanding grades, she made it on the President's list all four years. Following graduation, Ellie is excited to begin her career at PGC Phoenix.
Ellie's love for the game and passion for people shines through her role as the Member Service & Sales Playmaker. She is excited for the opportunity to be a part of the PGC family, and will undoubtedly take part in changing the lives of many athletes for years to come.
BriAnna Garza
BriAnna Garza, like many athletes, started her basketball career at the tender age of 4, playing in a co-ed basketball league.  Her love of the game only grew from there where she played as a starter in High School and despite being told by a high school coach that she would "never play at the next level" BriAnna dug in and proved all naysayers wrong.  Not only did she go on to play college ball on a full scholarship to Baker University, she was Conference Player of the Year and she was named to the All-American Team her Senior year.  BriAnna graduated in 2015 and she still holds multiple Women's basketball records at her Alma Mater.
BriAnna completed her Undergraduate studies in Psychology and went on to get her Master's in Sport and Performance Psychology. Before coming to PGC Phoenix, BriAnna had the opportunity to coach for her alma mater, Baker University, as a graduate assistant scout/skill development coach.
Never one to be idle, she is now working on a second Master's degree in Instructional Design and Human Performance Technology. Along with training athletes at the Phhacility, BriAnna also plays a large role in the design and development of PGC's online course design.
Combined with BriAnna's love of basketball is her overwhelming, natural ability to connect to players.  She exudes and coaches with constant positivity, having taken the doubts that early coaches tried to instill in her and turning it into drive and determination.  BriAnna thrives on developing not only a player's physical game but instilling that positive player attitude in each athlete she trains.
Diego Poore
Diego Poore is currently a course director for Skills Academy 1 for PGC. He has been with PGC for 5 years now. He first became involved with PGC while he was in high school (Cumberland County) in 2015. He was a 4-time PGC grad athlete. 
Diego continued his basketball career at NCAA D2 Tusculum University (Greeneville, TN). During his sophomore year, he was named a team captain. He was named to the Southern Atlantic Conference and Athletic Director's honor roll each year.
In 2018 and 2019, Diego spent time instructing camps for the Golden State Warriors. He spent his last two years of college eligibility at NCAA D2 Southern Wesleyan University (Central, South Carolina), where he was named to the Dean's List and team captain as a junior and senior. He received his degree in Sports Management. He is still looking to pursue professional basketball.
Once he graduated  in 2020, Diego worked as the head trainer at IJW Performance, owned by Hunter Davis (Cullman, Alabama).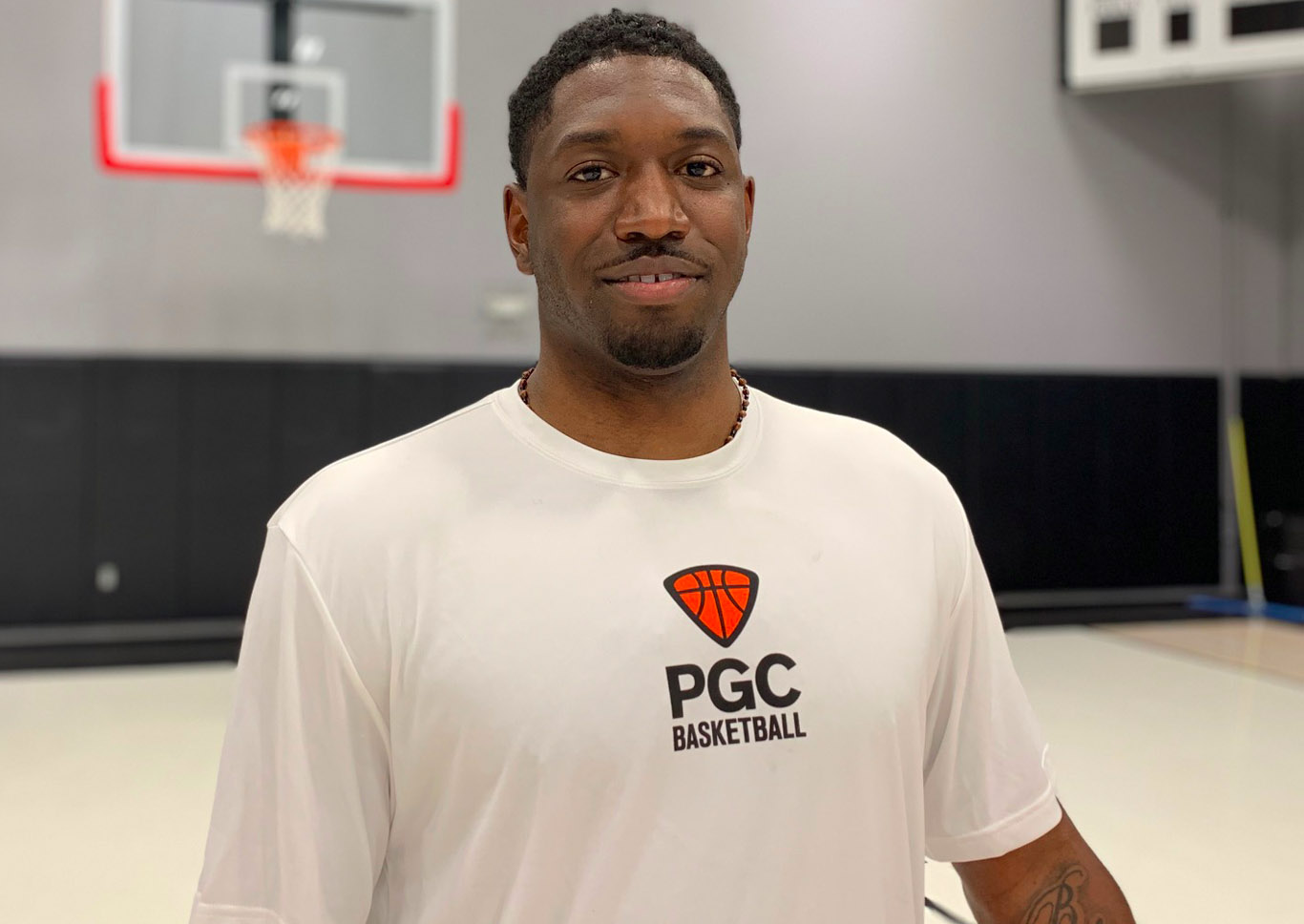 Domonique Holloway
Domonique out of Milwaukee, Wisconsin graduated from W.E.B Dubois high school in 2009 he was recruited by Iowa Lakes community college shortly after where he spent most of his time watching the game due to a knee injury. Domonique then moved back to his home state of Wisconsin and went to Madison Community College only playing 1 year at that institution. Year after year Domonique dealt with a few injuries that would cause him to become a student of the game early in his career, a long stint of trying to get to his goal certain things set him back. Even though downfalls crept into his life and while trying shake back from setbacks to actively play at a high level, Domonique continued to pursue his basketball career in 2017-2018 with a semi-pro team in Indiana named The Indiana Dream, where he averaged 20 ppg 5reb 3 assist. He then took on Basketball Training in 2018-2019 to give his gift and knowledge to upcoming players. Domonique is still working towards giving his knowledge to whoever he trains at a high level. Domonique is still a pro player seeking a team to play for because his love for the game will never cease, the knowledge Domonique gained throughout years of watching the game has caused a shift from being a basketball player to becoming a basketball mentor/trainer.
Proverbs 23:7 "As a man thinketh in his heart, so is he"
Kyle Koszuta
Kyle, a former NCAA Division I college basketball player, knows what it feels like to grow up in a small town, get overlooked by coaches, and feel like you aren't getting the respect you deserve — but still achieve the goal.
He's trained with NBA players, been mentored by master teachers, and become equipped to help the next generation of athletes reach their dreams. Kyle, who's also a comedian, strikes a balance between keeping the game fun and challenging his athletes to get outside their comfort zone.
Kyle has worked with numerous athletes breaking down film, creating development plans, and building new habits — so players achieve things they never thought possible. After working with Kyle, you won't only have an improved basketball game, your life will be different.
Tyler Coston
So many players and coaches love the game of basketball and want to fully realize their potential. Unfortunately, only a few really know how. It is so frustrating to go through a career as a player or a coach and only realize at the end how you could have achieved so much more in the game you love.
Tyler deeply loves the game, even moreso, loves to help others realize their dreams in the game of basketball and apply those principles to their life.
Tyler has played, coached and consulted at every level. He has taught the game all across the world. He brings the same passion and leadership to all ages and stages, coach and player, parent and fan.
Tyler is a premier shooting coach, speaker and clinician.
He wants to help you on your journey.
Let's begin.
PGC @ The Phhacility
4600 E Cotton Gin Loop
Phoenix, AZ
(866) 413-9345
phoenix@pgcbasketball.com
Train 1-on-1 with a PGC Trainer for a 30 minute shooting session on us. Sign up here!